Gudauri ski-resort

Located at an altitude of 2250 m Gudauri is the biggest and most cutting-edge ski resort in Georgia with a created framework that incorporates the greatest level drop in Georgia and boundless openings for free riding and back country skiing (ski-touring) and it proceeds to develop at a quick pace. The resort is the most elevated settlement on Caucasus Mountains along the Georgian Military Highway, moreover known by the old title "Sky Ravine Road" and is one of the five most hoisted lasting settlements in Europe. Lodging here is arranged at 2000-3258 meters over sea level. Gudauri draws in mountain significant others from around the world. Expansive amounts of common snow make the encompassing crests on the border between Europe and Asia a perfect region for powder devotees.

Gudauri offers trails for all levels of skiers, different runs, such as slalom, mammoth slalom, speed skiing and super slalom. In expansion, resort is well known among the free-riders as it is found tall within the alpine zone completely over the tree line. Gudauri is additionally celebrated for the paragliding, speed riding and heliskiing exercises. It is a developing resort, charming guests with its riches of openings for a dynamic occasion in mountains.

Some things to know before coming to the Gudauri Ski Resort:

Winter season: mid-December - end of March (rarely April).

The first ski-lift starts at an altitude of 2000 meters.

The last ski-lift ends at an altitude of 3258 meters. 14 ski lift in total.

The highest point of the resort: 3300 meters above sea level;

The total vertical drop of with the ski-lifts usage is 1258 vertical meters.

Prepared trails (total length) - 75 km., the longest descent: 7.5 km.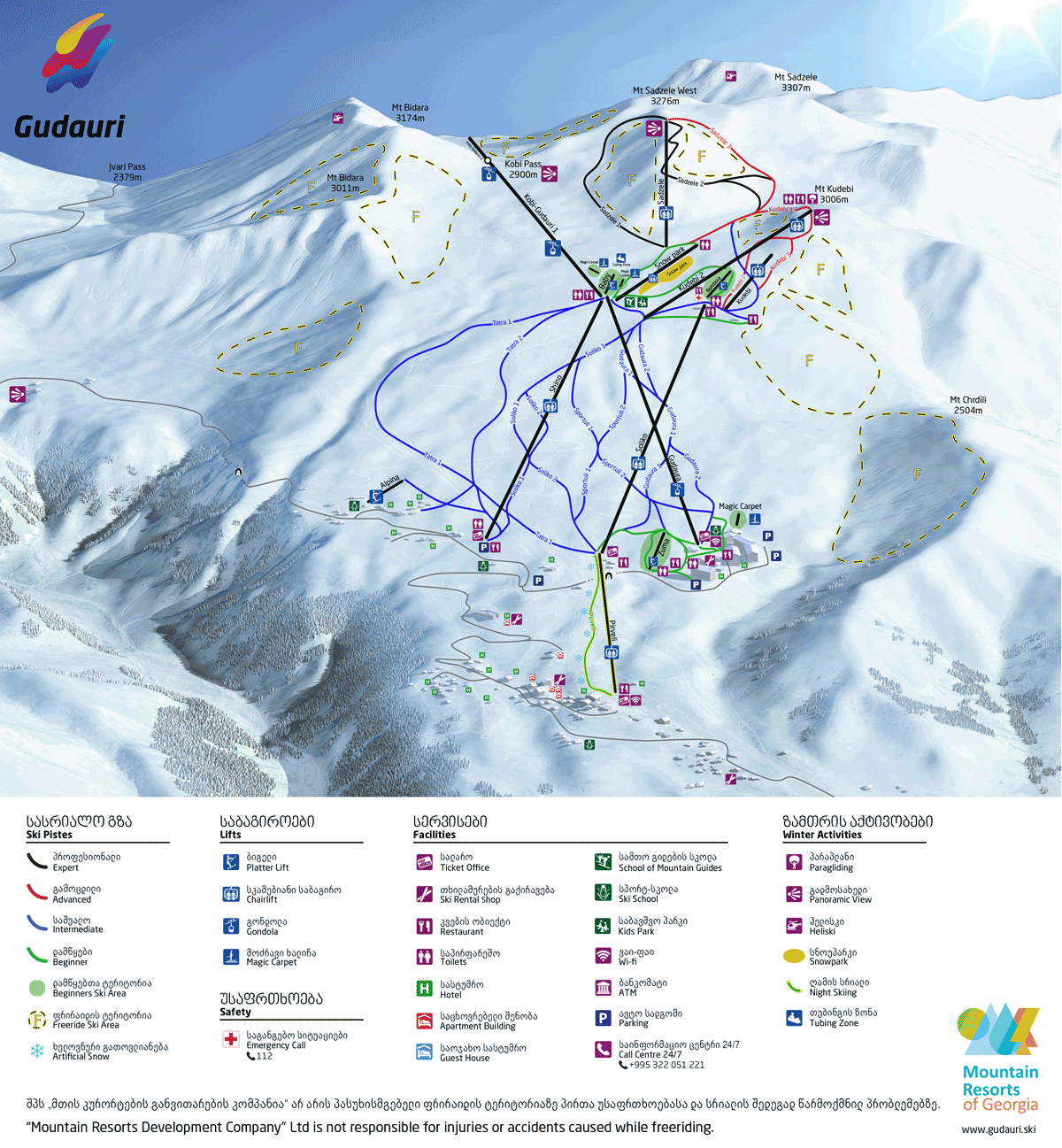 Activities:

Skiing - Skiable area of Gudauri enjoys the maximum exposure to the sun, which makes ski resort a radiant all-year-round traveler goal. Winter season starts mid-December and ends in March. Skiers of all levels can discover noteworthy openings for slalom, monster slalom, and downhill skiing, and indeed the world popular heli-skiing, for those who cherish to enjoy in extraordinary challenges.Guests appreciate skiing in expansion to a tremendous run of elective open-air exercises.

Most hotels offer free of charge shuttle service to/from hotels to/from ski lifts in the morning and evening.

All skiing equipment you can rent locally. Qualified Ski instructors are available for all levels.

Snowboarding - Whether on the slopes or freeriding in deep sno, Gudauri is exceedingly well known among snowboarders. The treeless downhill runs in Gudauri give snowboarders with wonderful conditions. Chairlifts and gondolas ease the rising for snowboard fans. There are proficient ski guides accessible for those who would like to ride the hot spots. You will continuously discover plenty of passionate snowboarders trying to find rides which have never been traversed. Much obliged to the ideal conditions here in Gudauri, snowboard fans can savor the delights of life and the extreme in snowboarding delight.

Freeriding - Gudauri Freeride is a safe on the resort territory near the slopes, which is possible for several days after the latest snowfall. With the use of ski lifts, freeride opportunities are expanding beyond the resort.

Freeriders may utilize snowshoes to climb up or may decide on visiting skis and ties for a lighter set-up. Avalanche gear could be a prerequisite for freeriding and even master skiers discover that enlisting a mountain direct may be awesome way to improve their involvement and discover the leading lines.

Helicopter skiing - Hire a Certified Guide and Helicopter and free yourself! Heli-skiing is a sort of backcountry skiing - free-riding which includes a helicopter to get to farther ranges and slopes of virgin powder Snow. Skiers and snowboarders are flown by helicopter to the beat of these inaccessible slants. A helicopter permits the skier or snowboarder to rapidly reach shocking statures and fabulous inclines something else troublesome to get to.

Heli-skiing in Gudauri is a truly unique experience: it combines the enchanted sensation of getting a bird's-eye see of the mountain world, and the excite of floating through powder snow, down pristine slants may-be never skied some time recently. Typically, why heli-skiing has ended up a well-known thrill-seeking experience, drawing in more skiers and snowboarders each year, from first-timers to master free-riders.

Paragliding - It is fun, secure way to involvement flight in its least difficult frame. You essentially lay out a wing on the mountains of Gudauri , blow up it over your head like a kite, run some steps and some time recently you know it you've stepped off into the sky! Once within the discuss, a pilot is able to preserve and indeed pick up height utilizing lifting discuss currents and thermals. Landing a paraglider is greatly simple. A pilot essentially steers it into the landing range, and coasts down for a very delicate touch down back on to soil.

Snowmobiling - One of the finest ways to appreciate the dazzling scene of Gudauri is to climb on board a snowmobile, rev up the motor and ride till your heart's substance. With miles and miles of snowmobiling trails, you may continuously discover unused and energizing places to ride. The Gudauri Mountains trails offer mind blowing view as you wind through fragrant the woodlands, along fresh mountain streams and over wide-open areas.

Special qualities of Gudauri:
The high-mountain location of the resort and its dry climate allow for the long time preservation of snow upon the slopes
Vast opportunities for freeriding
No queues at lifts (except for holidays and weekends)
Accommodations within the resort belt;
It is almost impossible to find a hotel room or an apartment "on arrival" – resort housing is limited, especially during the "high season" (December 27 to January 14 and February 15 to March 10).

Optional:

Night-Time Skiing on weekends from 20:00 to 22:00 on illuminated trails under the first cableway (Pirveli).

Night-time skiing cost is included in the daily ski pass price.

Artificial snow - if there is a lack of natural snow, the trails under the first and second cableways - Pirveli and Soliko - are snow artificially.

Distance from the airports:

Tbilisi International Airport - 136 km (2 hours 30 minutes by car)

Kutaisi International Airport - 315 km (5 hours by car)

Batumi International Airport - 439 km (7 h by car)

To book private tours, please, contact our travel advisor here.
Recommended Hotels in Gudauri :
Marco Polo Gudauri 4* - Located 2,003 m above sea level and Gudauri Lift 1 Pirveli is few meters away from the Hotel. Marco Polo Spa and Wellness Centre features a great selection of massages and body treatments, a hot tub, sauna, and a sun terrace. Guests will have complimentary access to Spa facilities. The indoor swimming pool is also featured. 4-lane bowling alley and indoor tennis courts can be enjoyed on site.
Gudauri Good Inn 4*- Located 200 meters away from the first ski lift station. All rooms feature a balcony with mountain view.
Carpe Diem Gudauri 4* - Located 2172 meters above sea level, 100 meters away from the central ski lift. Guests can enjoy the on-site cinema, meeting facilities, and Spa center with an indoor swimming pool, relaxation area, sauna, massage room, and solarium.