Goderdzi ski resort
Goderdzi is a ski resort in Georgia, been opened in December 2015. Situated in the Autonomous Republic of Adjara near Beshumi village. It is situated on the north-facing plateau at a top elevation of 2366 m from sea level. It is attractive to visitors since it is possible to combine a trip to the sea and skiing in the winter vacation. Goderdzi is the perfect four-season mountain resort because of its location and infrastructure.
Ski-mountain resort Goderdzi has a special climate. It is located 2000 meters above sea level. The Goderdzi Pass is just 100 kilometers from the Black Sea coast. Goderdzi resort might receive the title of "The snowiest ski resort in Georgia".
Goderdzi Resort is a lovely and welcoming four-season destination. It is offering the best visitor experience in the regional market. Goderdzi ski resort is also referred to as White Pearl in Adjara. It is a peaceful place to relax and unwind from noisy cities. Goderdzi ski resort is distant by 252 kilometers from Tbilisi.
The resort is distinguished by magnificent nature, fresh air, and beautiful landscapes. Goderdzi ski resort is equipped with an 8-person gondola, 6-person chairlift, two platter lifts, and 4 ski pistes. The total length of pistes is 8 kilometers. Slopes at the resort are focused on all levels of skiers, such as intermediate, advanced, and expert. Snow blanket remains from November till April. However, the resort welcomes guests all over the year.
Hiking trails at Goderdzi resort exceeds expectation. Goderdzi Petrified Forest is a home of unique petrified flora and fauna. This area is named as a Natural Monument in the List of Protected Areas of Georgia. Pristine, forested mountains create an incredible setting in the winter, spring, summer, and especially when the autumn colors create an intense display. Sitting at an elevation around 1700 m (top elevation 2390 m), the resort base is below the tree line, offering an amazing and welcoming character throughout the seasons. In addition, visitors have the opportunity to taste local curative mineral waters.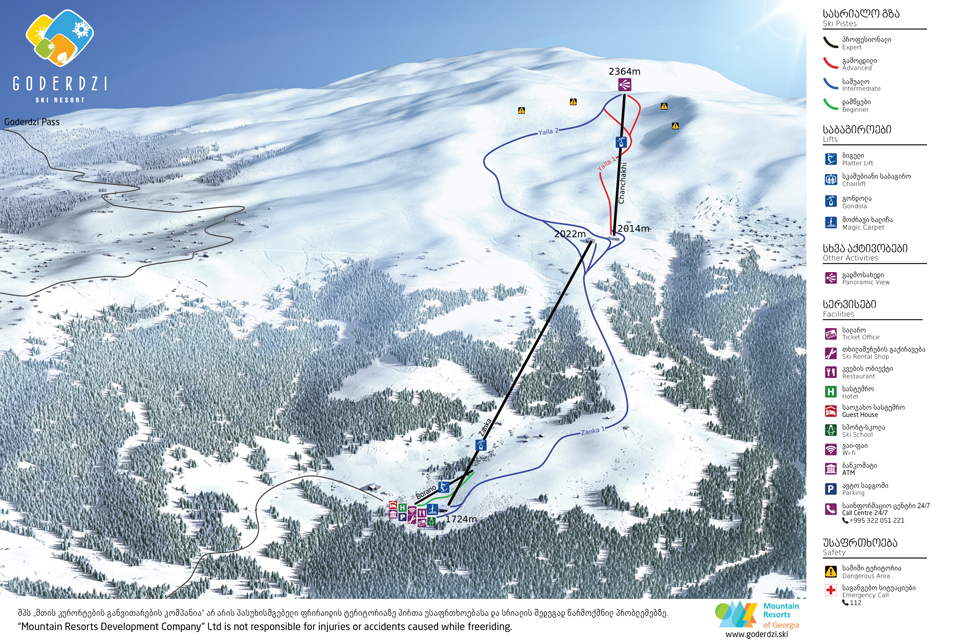 Goderdzi is good for skiing and boarding, as well as for freeriding.
Activities:
Skiing
Snowboarding
Heli-skiing
Paragliding
Snowmobiling
Freeriding
SKIING
Goderdzi resort is one of the best ski resorts in Georgia. For people who love skiing, Goderdzi resort is a great choice. The skiers are also attracted by the fact that the resort is covered with snow within 4 to 5 months. Goderdzi resort offers comfort and very good ski tracks.
SNOWBOARDING

Goderdzi ski resort is an ideal place for snowboarders as well as for free-style skiers to present their abilities. There are several advantages of the resort, such as bright sun, high mountain climate, wonderful, challenging tracks, and especially - the early commencement of the season. Snowboarders can enjoy by those benefits. Amateur snowboarders visit Goderdzi resorts from all around the world.
FREERIDING
Enjoy the race in untouched powder snow and the ski under the blue sky to feel the freedom and catch the moment. Realize the extreme dream and visit the Goderdzi resort for a free ride! Experienced guides and comprehensive equipment will make your ski race an outstanding experience and let you pave your own snow path in Goderzi resort.
WINTER HIKING
Goderdzi invites guests for winter hiking to make their trip adventurous, to wonder and enjoy the snow-covered landscapes. Beautiful settings are simply magnificent and the soft crunching of the snow under the feet will allow visitors to catch the moment.
Distance from Georgian International Airports to Goderdzi ski resort:
Tbilisi International Airport – 280 km (5 h 13 min)
Kutaisi International Airport 256 km (5 h 21 min)
Batumi International Airport – 105 km (3 h 12 min)
To book a private tour or apartment, please, contact us here.