Bakuriani ski resort
Ski resort Bakuriani is located on the western slopes of Trialeti mountains, Lesser Caucasus, East Georgia. The resort is an attractive for not only in winter, but in other seasons as well. Unlike Gudauri, the area around Bakuriani is covered by coniferous forests and area is full of aroma of the trees. Such natural factors create ideal conditions for rest and recreation during summer as well. The climate of Bakuriani is transitional from humid maritime to relatively humid continental. Winter in Bakuriani is cold with significant snowfall, while summer is quite short. Average annual temperature of the town is 4.3 degrees Celsius. Snow blanket remains in Bakuriani for 4-5 months.
Bakuriani is connected to nearby Borjomi resort by the 37 km Borjomi-Bakuriani narrow-gauge railway, often referred as "Kukushka". It passes through the forests while slowly going uphill. Famous Kukushka train of Borjomi obtains intangible cultural heritage status.
Bakuriani is one of the most popular mountain resorts in the region. It is a heaven for ski lovers and an internationally important winter sports centre, which meets Olympic standards. In 70-80-s of the XX century Bakuriani was one of the bases for preparing of ski mountaineering Olympic national group of the Soviet Union, where numerous celebrated Soviet skiers were preparing, it moreover different slalom, bobsleigh, biathlon and skiflying donning occasions were held.
The infrastructure of the resort has been set up in Soviet times, when Bakuriani was being utilized to become a Winter Olympics preparation base. Since then thousands of individuals annually keep coming to Bakuriani to ski, sled, investigate the adjacent slopes and inclines, improve cross-country skiing or fair to unwind and breathe fresh mountainous air. The infrustracture has been remodeled turning Bakuriani into one of the foremost interesting Georgia ski resorts.
As of now, Bakuriani offers 23 ski pistes with total length of 29.1 kilometers. The tracks are prepared with artificial snow-making systems and focused on for all skiers. Slopes are divided according to the levels of difficulty, such as beginners, intermediate, advanced, expert. 8 lifts and 1 funicular are opened from 10 am to 5 pm and serve guests.
Numerous worldwide competitors come here to improve their aptitudes. Additionally, it is a superb venue for children to try their ability in winter sports for the first time. Therefore, it is perfect place for families. In Bakuriani visitors can enjoy varieties of activities such as: Ropeways, ski-jumps, ski-tracks, cross-country skiing, night skiing, horse-rides, horse-drawn sledges and snowmobiles. The surrounding mountains offer lots of possibilities for both challenging and picturesque mountain mobile trips.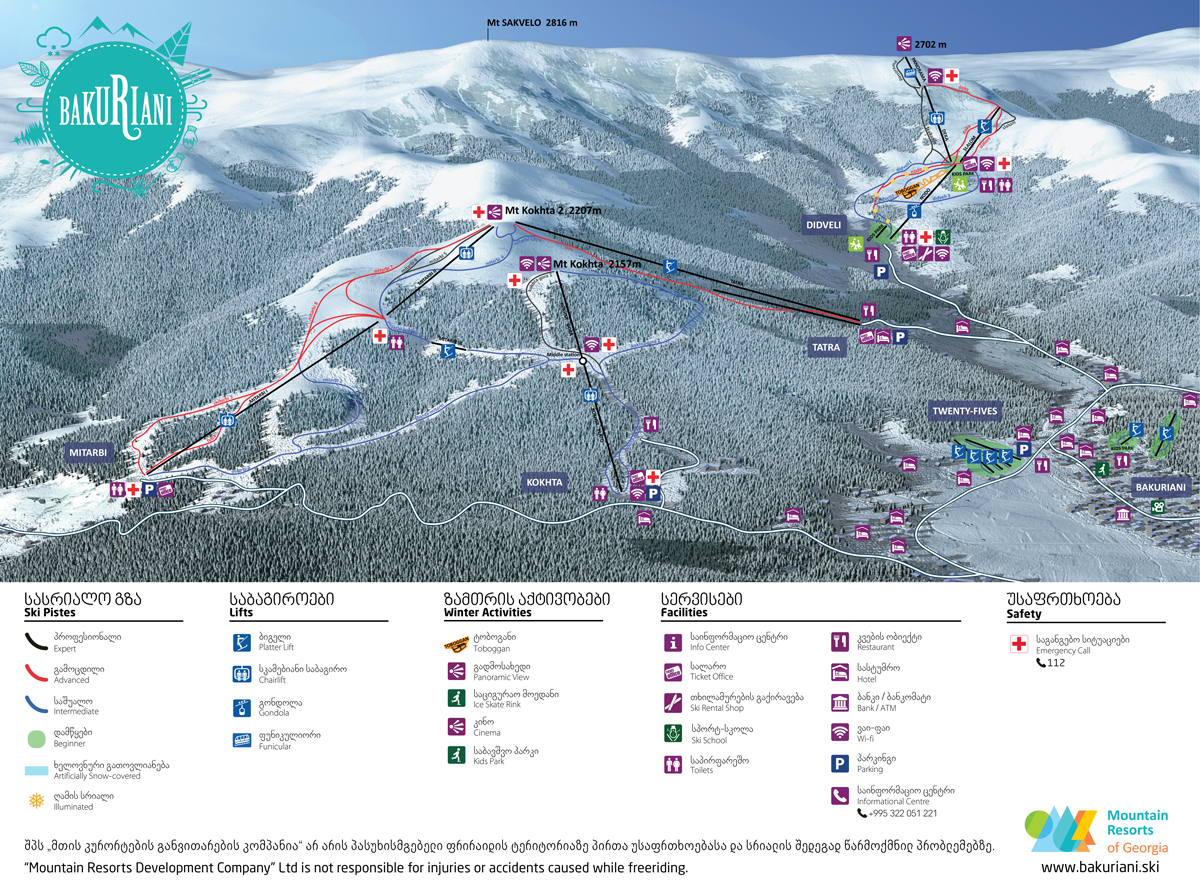 Bakuriani Map" width="904" height="665" />
Bakuriani ski areas are called Didveli and Kokhta-Mitarbi.
Didveli
Didveli skiing zone offers 8 ski pistes with total length of 16 kilometers. Tracks are prepared with artificial Snow-making systems and focused on for all skiers. Slopes are divided according to the levels of difficulty, such as beginners, intermediate, advanced, expert. 3 ski lifts and 1 funicular are opened from 10 am to 5 pm to serve guests. Night skiing is accessible from 17:00 pm until 21:30 pm.
Kokhta
New life has begun in the resort in 2016, when Kokhta was officially launched after a 30-year break.
New ski lift was installed with total length 1649 m and capacity - 1800 p/hour. Bottom station is located 1725 meters above level and a top station on 2157 meters above sea level. Currently, intermediate and advanced ski pistes are available and the total length of ski pistes is 3.1 km.

Mitarbi
Mitarbi mountain resort is located four kilometers away from the Bakuriani winter resort.
Three new ski lifts have already been built at Mitarbi. It is allowing tourists and visitors to travel 2,300m above sea level.


Mitarbi I Sixpack Chairlift Detachable
Length - 1255 m|Capacity - 1800 Person per hour|Bottom Station - 1641 m|Top Station -2006 m
Mitarbi II - Quad Chairlift Fixed Grip
Length - 900 m|Capacity - 1400 Person per hour |Bottom Station - 1999 m| Top Station -2207 m
Mitarbi III – J-Bar
Length - 185 m|Capacity – 800 Person per hour |Bottom Station - 1800 m |Top Station -1920 m
Currently Mitarbi skiing area offers 11 ski tracks with the following types: intermediate, advances and expert. The total length of the tracks is 10 km.
Recommended Hotels in Bakuriani:
Bakuriani Inn 5 *
Bakuriani Inn is a 5-star luxury hotel in Bakuriani. The hotel has its own 25,000sq.m. yard with hundreds of century old pine trees, 500-meter walking and cycling track, private parking and children's playground.
The hotel is adapted for people with disabilities.
Bakuriani Inn features two restaurants, one wine bar, one whiskey bar, winter garden, conference hall, and game room with wide range of games from professional billiards to X-box.
The hotel spa center is a popular area for both relaxation and fun. It features one pool, two Jacuzzis, small pool for children, a gym, beauty salon, Finnish sauna, steam room and massage rooms.
Didveli ski resort is 2,5 miles away from the hotel.
BM Plaza Bakuriani 4*
BM Plaza in Bakuriani is a 4-star hotel with ski-to-door access, a garden and a bar. Among the various facilities are a restaurant and ski storage space. Dedicated conference facilities for up to 50 persons and an entertaining room for children
The Terrace Restaurant and Bar features open-kitchen, stylish setting with inventive Georgian-European dishes. Dishes prepared for Vegan, Vegetarian, Kosher, Halal and special dietary requirements.
Crystal Spa Bakuriani 4*
Crystal Hotel and Spa is a 4-star hotel. Located within walking distance of Didveli funicular railway outside of village and is surrounded with mountains and forests.
In crystal park, you will find: Ski-lifts and slopes (up to 2500 meters) 350 meter slopes for children Skiing instructors snow Tubing Ice rink Shop with skiing accessories Park.
Guests can enjoy in Spa Center: Swimming pools for both children and adults, Jacuzzi, Finnish sauna and Turkish Hamam, Fitness center and of course spa procedures with a beauty saloon as an addition.
Snow Plaza 4*
Snow Plaza is a 4-star hotel. Located in Georgian "Winter Capital" Bakuriani, in the heart of Bakuriani with beautiful views. Central location of the hotel is one from its dignities!
The hotel features a Spa centre, a sauna, an indoor swimming pool, billiards and a gym. The accommodation offers a children's playground.
King David Bakuriani 4*
King David Bakuriani is a 4-star hotel. Located in Bakuriani, 500 m from the center. It is walking distance to beginners ski slopes.
Hotel King David Bakuriani has a terrace and a restaurant.
Driving distance: from Tbilisi airport is 200 km (3 h); from Tbilisi railway station 181 km (2 h 37 min); from Kutaisi airport 175 km (3 h 11 min); from Batumi airport 304 km (5 h 39 min);
To book private tour or apartment, please, contact us here.