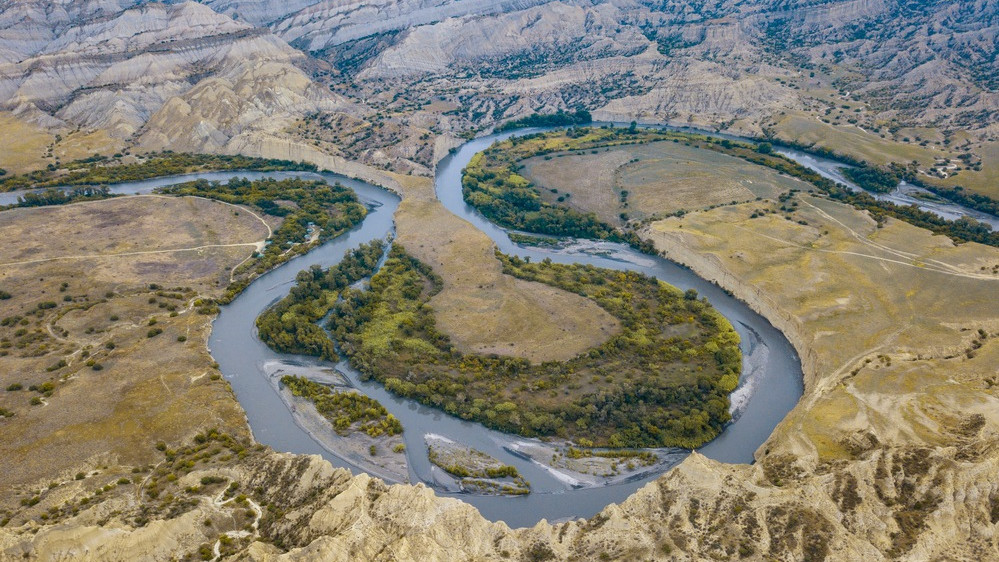 Hike: Mijniskure viewpoint – 2.2 km (two-way) 40 meters up/down, approx. 1 hour.
We start this day with a short hike to nearby hills to observe Sunrise (around 6:00 AM, depending on a month), that opens up spectacular views of the Mijniskure and surroundings. After the sunrise, we return to cottages for a quick breakfast and head out further into Vashlovani Protected Area.
Driving (Dirt road, 4x4): Mijniskure – Bears Gorge – Pantishara, 40 km, approx. 2 hr 45 min
One of the wonders of Pantishara Canyon is a "Town" of Swallows (Delichon urbica), built on a negative wall of the rock in the middle of the canyon. It includes several thousand nests. This so-called town was built by the swallows and it shows the manner of their colOnial life. In early spring this town is occupied by swallows. Later, the swallows, returning from warm countries, are furiously fighting to get back their town. As a rule, the fight is ended with driving the swallows out.
Site of Alesilebi at Datvis Khevi ('brown bear gorge') has one more surprise for visitors – meeting with pre-historical fauna. In the deposited layers of exposed rocks, a good observer can easily notice the mollusk chitins that are well preserved. These mollusks are the oldest habitants of Vashlovani; they belong to the time when the local territories were covered with sea.
In the same Datvis Khevi you can see one more comparatively "young" pre-historical animal: in clay, hill extrudes the hardened shoulder bone of the southern elephant.
Driving (Dirt road, 4x4WD): Pantishara – Keseman – Dali Reservoir, 55 km approx. 4 hr
This relatively long ride will take you upstream of Iori River Valley and its Gallery Forests and Grasslands.
The Iori River, and the gallery forest which stretches along the valley, are integral parts of Georgia's steppe ecosystem – vast, biodiversity-rich grasslands, with scrub-covered ridges, dominate the landscape. As it is the region's only permanent water source, most large mammals of the steppe including Lynx, Wolf, Brown Bear, and Persian gazelle make their habitat in nearby areas.
Finally, after a long day, we will reach Dali Reservoir for the proper meal and overnight in a local hotel, which is the only accommodation option within 3 hours of drive from that point. Since the hotel is within short walking distance to the reservoir, it is possible to take a swim and relax at the shore.
Overnight in Hotel Dalis Mta.